---
Aussie Super Ride Dates:- Monday 2nd to Monday 30th November 2020
---
---
---
Join in the fun as we attempt to Ride, Roll, Run & Walk together around Mainland Australia ... and beyond.
THIS IS NOT A FUNDRAISER ...
IT IS A FUN EVENT ...
So let's join together and have some fun as together, we see the sights of Australia ...
OUR COMPLETED JOURNEY ... WE DID IT!!!
>ACTUAL SUPER RIDE MAP WITH MILEAGE ... measured from the School Accommodation Site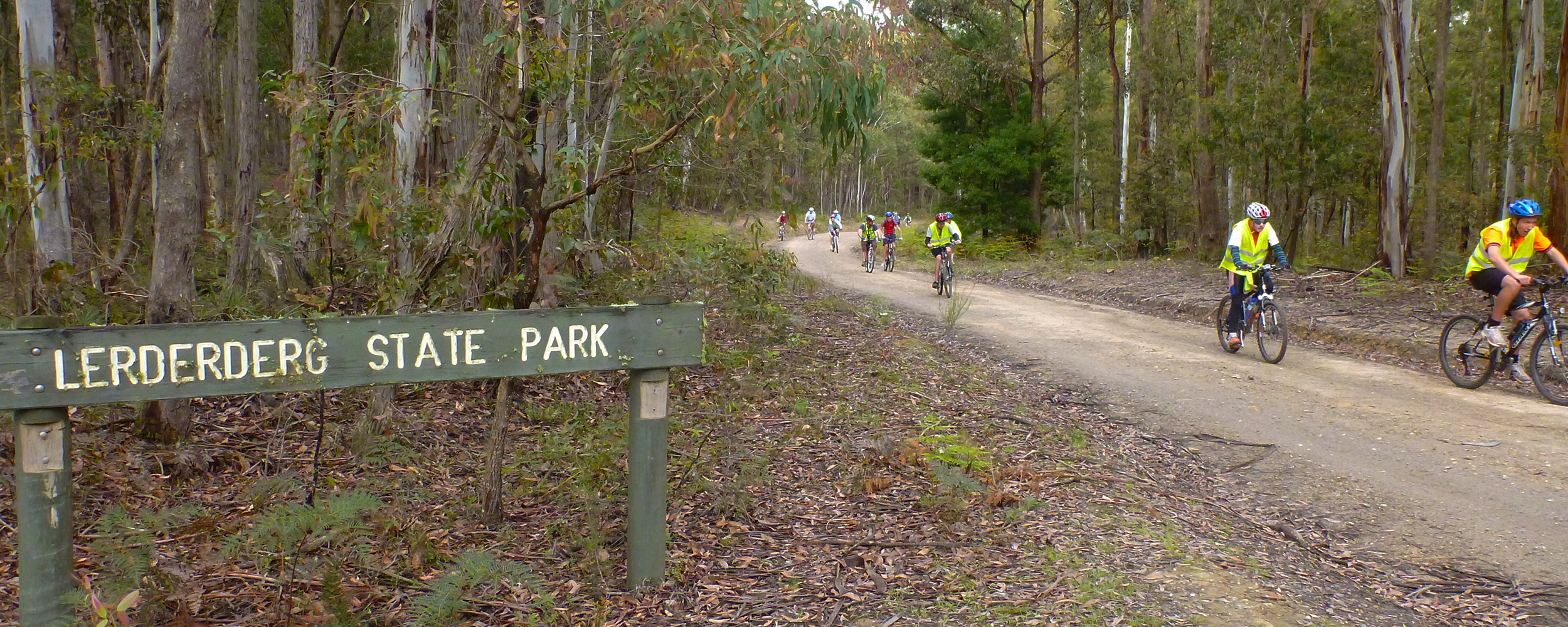 Through this experience we encourage everyone within every Special School community across Victoria - students, staff, parents, siblings, grandparents, school councillors, EVERYONE - to get outside, get active and participate in our Aussie Super Ride.  Along with School Communities we will be joined by Victoria Police, Rotarians and Friends of Blackwood who will also help us explore and discover Australia. 
So turn off the screens, go outside & start adding up your kilometres to help us travel around Australia.
How is the Mileage of your ride/roll/run/walk calculated?
10 X students + 3 X staff enjoy a 10km ride = TOTAL DISTANCE 130km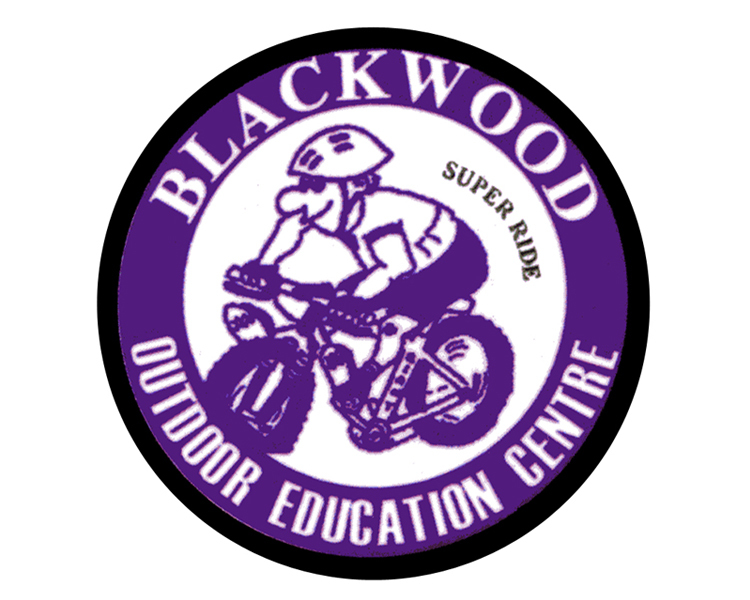 10 X students + 5 X staff enjoy a 1km walk - TOTAL DISTANCE 15km
If you use stationary bikes OR wind/bike trainers, please send through an estimated TOTAL distance for your group if accurate distances cannot be measured.
If participation is through rolling and a student is being assisted by someone else, please include the distance X 2. If the student is rolling themselves, the distance is individual.
Where do we submit our number of participants, total mileage, images & footage?
This email address is being protected from spambots. You need JavaScript enabled to view it.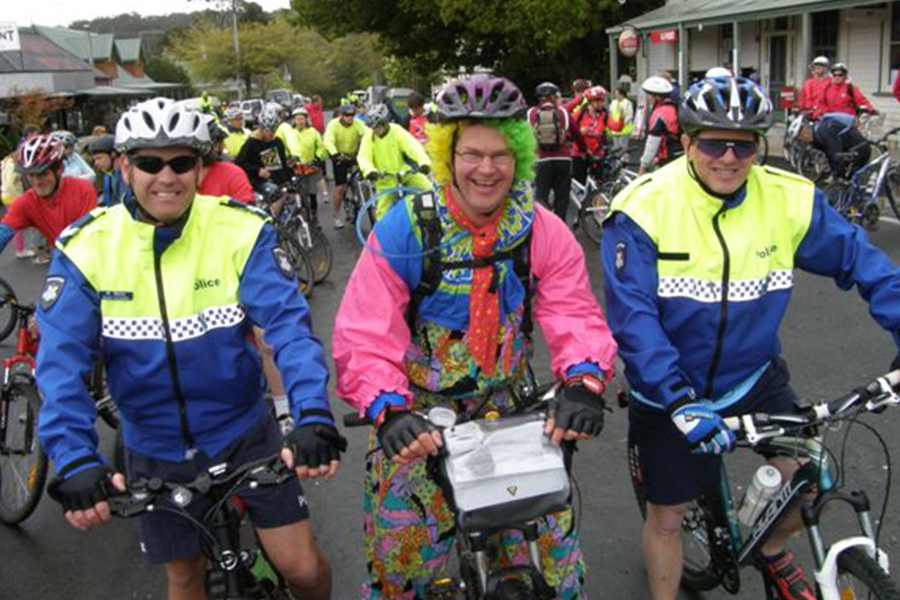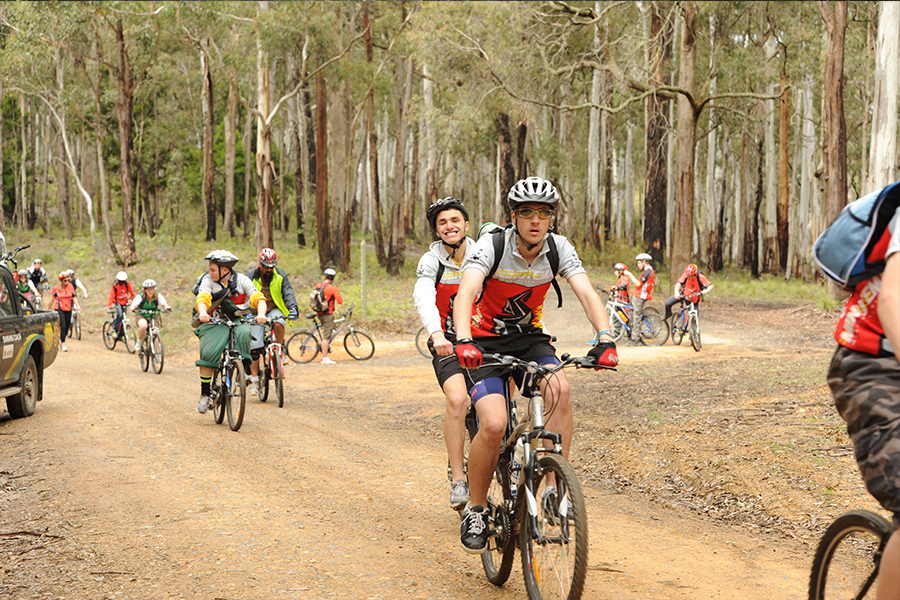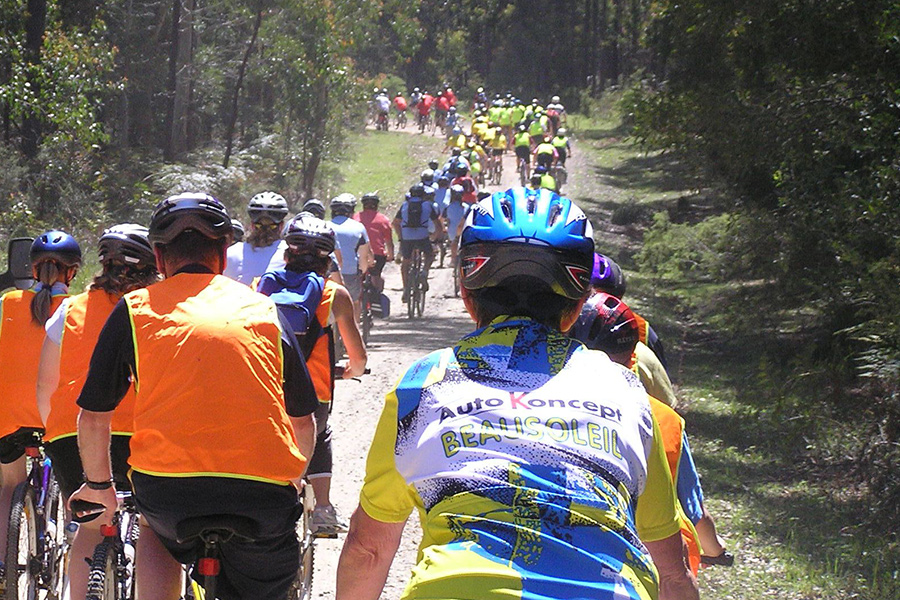 WEEK 4 - Monday 23rd - Monday 30th November 2020
WARNING:- Videos may use a fast forward editing tool & may cause dizziness
STAGE 7
Countess Rd to 5 Ways
Approx Distance:- 9km
APPROX TOTAL SUPER RIDE DISTANCE:- 31.5km
Video Duration:- 11:44min
STAGE 8
5 Ways to the Finish
Approx Distance:- 8.5km
APPROX TOTAL SUPER RIDE DISTANCE:- 40km
Video Duration:- 11:25min
IMAGES of the WEEK 4 FUN
GERALDTON, Western Australia to BLACKWOOD, VICTORIA ...... HOME - 5,896.47KM
Busselton, Western Australia
Albany, Western Australia
Esperance, Western Australia
Nullarbor, South Australia
Port Augusta, South Australia
Adelaide, South Australia
Naracoorte, South Australia
Mount Gambier, South Australia
HOME
Blackwood Special Schools Outdoor Education Centre, Victoria
WEEK 3 - Monday 16th - Sunday 22nd November 2020
WARNING:- Videos may use a fast forward editing tool & may cause dizziness
STAGE 5
Super Ride into Trentham for Lunch
Approx Distance:- 5km
APPROX TOTAL SUPER RIDE DISTANCE:- 20.5km
Video Duration:- 11:13min
STAGE 6
Super Ride Lunch to Countess Rd
Approx Distance:- 2km
APPROX TOTAL SUPER RIDE DISTANCE:- 22.5km
Video Duration:- 8:01min
IMAGES of the WEEK 3 FUN
CARPENTARIA, Queensland to GERALDTON, Western Australia - 6,063.46km
Booroloola, Northern Territory
Nhulunbuy, Northern Territory
Kakadu, Northern Territory
Darwin, Northern Territory
Katherine, Northern Territory
Timber Creek, Northern Territory
Lake Argyle, Western Australia
King Leopold Ranges, Western Australia
Eighty Mile Beach, Western Australia
Port Hedland, Western Australia
Karratha, Western Australia
Carnarvon, Western Australia
Steep Point, Western Australia - Mainland Australia's most Western Point

Geraldton, Western Australia
WEEK 2 - Monday 9th - Sunday 15th November 2020
WARNING:- Videos may use a fast forward editing tool & may cause dizziness
STAGE 3
Super Ride 5 Ways to East Trentham
Approx Distance:- 3km
APPROX TOTAL SUPER RIDE DISTANCE:- 11.5km
Video Duration:- 9:15min
STAGE 4
Super Ride Trentham East Loop
Approx Distance:- 4km
APPROX TOTAL SUPER RIDE DISTANCE:- 15.5km
Video Duration:- 12:35min
IMAGES of the WEEK 2 FUN
MACKAY, Queensland to CARPENTARIA, Queensland - 2,769.49km
Cape Tribulation, Queensland
Cape York, Queensland - Mainland Australia's most Northern Point
WEEK 1 - Monday 2nd - Sunday 8th November 2020
WARNING:- Videos may use a fast forward editing tool & may cause dizziness
STAGE 1.1
Start Super Ride Down the Hill
Approx Distance:- 2km
APPROX TOTAL SUPER RIDE DISTANCE:- 2km
Video Duration:- 4:30min
STAGE 1.1
Killer Climb Hill
Approx Distance:- 3km
APPROX TOTAL SUPER RIDE DISTANCE:- 5km
Video Duration:- 9:16min
STAGE 2
Super Ride Top of Hill to 5 ways
Approx Distance:- 3.5km
APPROX TOTAL SUPER RIDE DISTANCE:- 8.5km
Video Duration:- 11:59min
IMAGES of the WEEK 1 FUN
BLACKWOOD, Victoria to MACKAY, Queensland - 3,826.33km
Blackwood Special Schools, Victoria
Wilsons Promontory National Park, Victoria - Mainland Australia's most Southerly Point
Merimbula, New South Wales
Wollongong, New South Wales
Canberra, Australian Capital Territory - Australia's Capital City
Central Coast, New South Wales
Newcastle, New South Wales
Port Macquaire, New South Wales
Coffs Harbour, New South Wales
Cape Byron, New South Wales
Mainland Australia's most Easterly Point
Big Banana, Sunshine Coast
Queensland